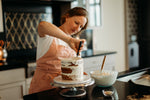 Meet Lauren Weinberg, Pastry Chef
My love of cooking can be traced back to middle school. I took a Home Ec class and just fell in love with creating delicious food to share with friends and family. I soaked it all in- I loved cooking shows and experimenting in the kitchen. The big red Betty Crocker cookbook became regular reading, and I became famous among my family for my cream puffs. 
Fast-forward and fresh out of University of Texas, I took a Wilton cake decorating class just for fun, really enjoyed it, and decided to try selling my baked goodies. I taught Kindergarten and baked on the side for several years. After having children of my own, I needed a more flexible career and did a few different work-from-home jobs and kept baking. Each opportunity taught me important skills that prepped me for owning my own business. In 2019 I decided to give my baking business a real shot. Despite Covid hitting a few months later, my cottage baking business steadily grew, which was so thrilling! 
In early 2021, Julie asked me if I wanted to open a brick and mortar boutique/bakery - something I have dreamed of since I was that little girl having fun in the kitchen. We are so excited to be walking through this project together. Finery & Cake is a culmination of so much of what we adore-beautiful things to make our homes welcoming, yummy desserts to feed our friends and family, and a whole lot of our love poured into all of it!