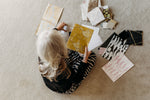 Meet Julie Kuney, Designer
Delighted to see you here!
I am beyond thrilled to bring my love for design and entertaining to this collaborative with my daughter, Lauren. Whether it's helping bring a room to life with new furniture and accessories, or finding a fresh paint color to update a space, or planning a party with a beautiful tablescape and elegant ambiance – I love it all!
With a degree in Interior Design and more than 15 years of experience in the design field, I've helped my clients with designing newly built homes, updating old homes, and simply making their home feel more…like home. I enjoy helping people find their style and watching the joy in their eyes when they fall in love with their renewed space.
I'd love to help you find your style, or enhance your own design work, or help with your next soiree. Let's see what we can create together, shall we?